Newcastle United beat Wolfs 1-0 in a crucial English Premier League match.
Newcastle United beat Wolfs 1-0
The only goal of the match was scored by Chris Wood. Wolverhampton is eighth in the points table after the defeat, while Newcastle United have their 14th victory in the event.
Newcastle head coach Eddie Howe said:
"Massive tonight. It was the kind of game we expected it to be. Wolves make it difficult for you. We had our moments. It took a penalty to win the game but the players gave everything again.
"I am so pleased for Chris Wood. You could see him filling in on the left of midfield. He is a willing lad. The goal will do wonders for him. I am pleased he stepped up and took it.
"We still have work to do but that was a massive step forward tonight. It brings us closer to safety. I hope there will be a different Newcastle in the future but we have to play a certain way to get results at the moment."
Newcastle striker Chris Wood said:
"It is fantastic. There is something about playing in front of St James' Park and we want to get them up for it. Luckily today we did.
"It helps when you play those teams you do well against. It is always good to score as a striker but ultimately we need points to get out of the relegation battle and to build for next season. It is getting closer. We want this club to go to the next level. We need to get to 40 points and then build."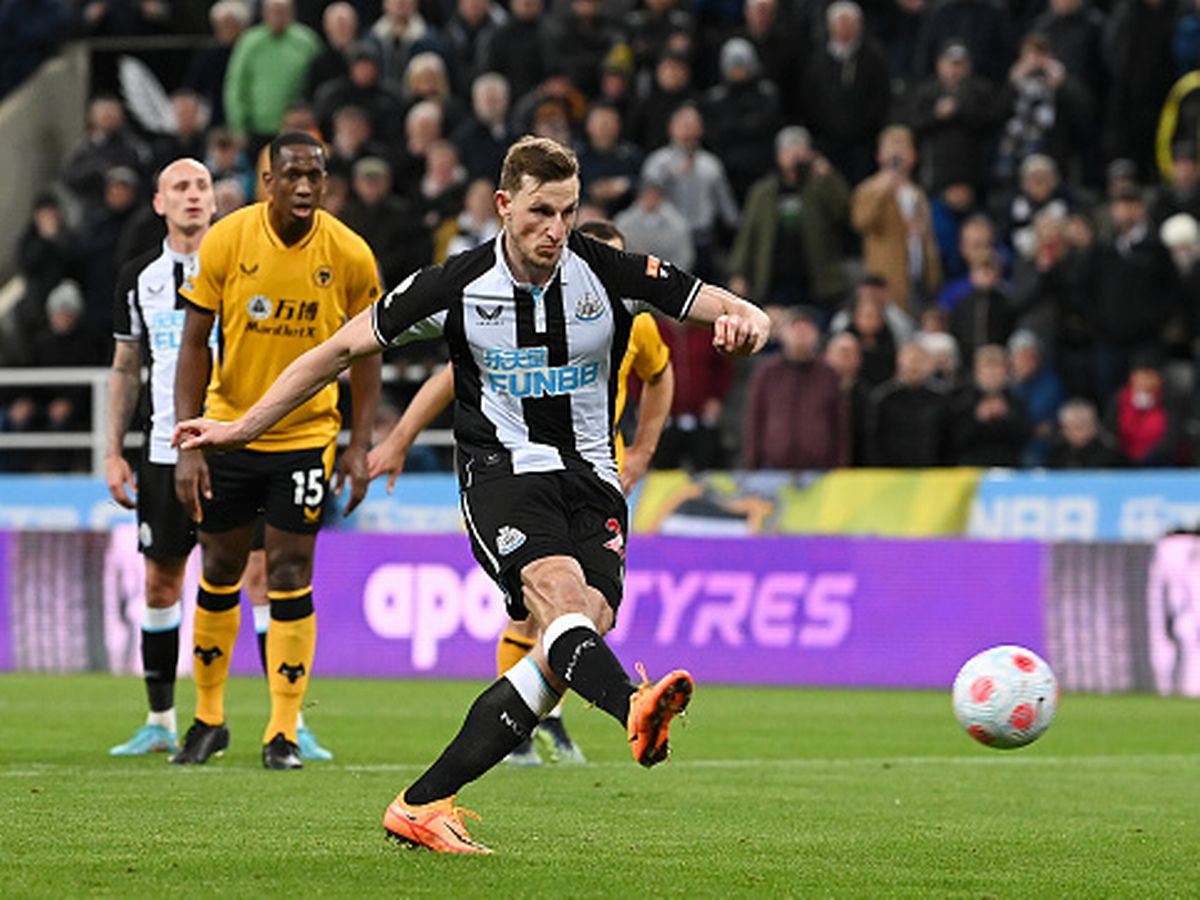 Wolves head coach Bruno Lage speaking to Sky Sports:
"In the first half, I think we controlled the game with and without the ball. We know how dangerous Newcastle can be with the runs in behind but we controlled that. But we weren't aggressive and we didn't create our chances. We were the better side in the second half. I think within the first five minutes we created more than in the whole first half.
"I don't know if there is a team with more penalties against than us. We lost the ball before, it's not the first time and I think it's maybe six or seven penalties inside our box and 1-0 for them. After that we continued to play our game, we created two good chances but didn't score. I think it was a big opportunity for us that we missed because if we played the full game as we did in the second half may be the result would have been different.
"Since the first minute, we need to control the game with the ball and not be defending so much. We need to be more aggressive, not making fouls but being near the man. If you look at the goal, they win the ball and in two passes they're inside of our box. So it's frustrating but we need to continue to work. That's our mentality and we need to learn and improve."