Wicketkeeper-batsman Mohammad Rizwan has thanked the fans for supporting the national team in the three-match T20 series against the West Indies. Mohammad Rizwan also has a record of half-centuries this year and he has also recorded 42 sixes and 199 fours. In the year 2021, more than six record records are also in Rizwan's name Similarly, in the ICCT 20 rankings, Rizwan is at the fourth position with 766 points.
Wicketkeeper-batsman Mohammad Rizwan

Message for fans
In his message on social networking site Twitter, Mohammad Rizwan wrote,
"I thank the citizens of Karachi for their patience during the matches. We will soon see that there will be no security problem in Karachi and neither will the citizens."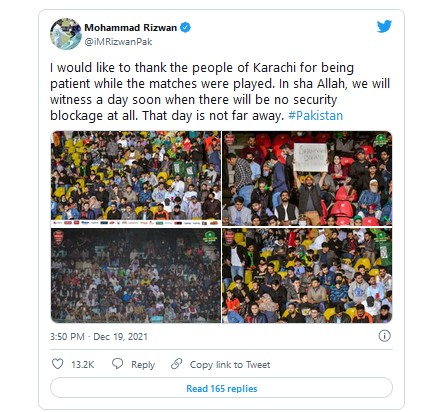 There will be no barriers. The wicket-keeper-batsman has set many records this year, playing an 87-run innings against the West Indies and becoming the first batsman in the world to score 2,000 runs a year in all leagues and international matches in 2021.