Under the Future Tour program, the Afghanistan cricket team will host the Pakistani cricket team in 2023. According to the schedule of Future Tour programs announced by the Afghan Cricket Board, the Pakistan men's cricket team will host Afghanistan for the three ODIs to be played in February-March 2023.
The Afghan Cricket Board has revealed that the team will play 3 Test matches during 2022-23, including 37 ODIs and 12 T20 Internationals. Meanwhile, the Afghan team will also participate in events played under the International Cricket Council (ICC) and the Asian Cricket Council (ACC). Afghanistan will not play any Test match on its soil. His two Test matches are scheduled in Zimbabwe, and one will be played in Ireland.
"PCB has accepted Afghanistan Cricket Board's (ACB) request to postpone next month's ODI series due to players' mental health issues, disruption in flight operations in Kabul, lack of broadcast facilities, and increased Covid-19 cases in Sri Lanka." The Pakistan Cricket Board (PCB) had said in a press release.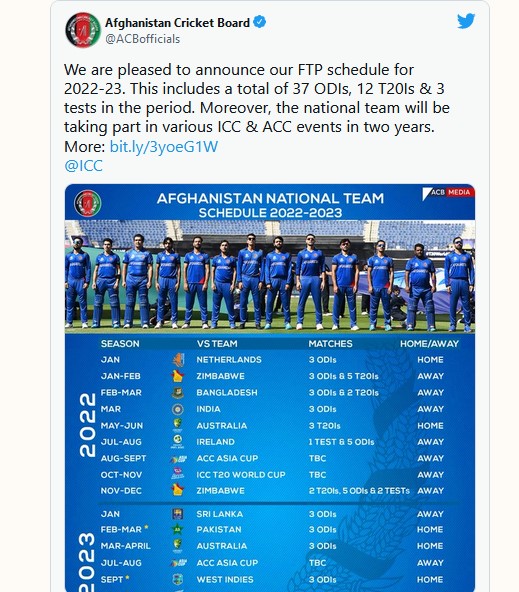 On the other hand, the dates of the Pak-Afghanistan series will be confirmed later. Meanwhile, Afghanistan will tour India for 3 ODIs in March 2022. While it will also host Australia for 3 T20 matches in May-June 2022.