By defeating West Indies in the first T20 International of the three-match series, the Pakistani team won the most T20 matches in a year.
Pakistani team won 18 T20 matches in 2021

This year, Pakistan has played 27 T20 International matches with 18 wins, six losses, and three draws. Pakistan is the only team to have won 17 T20 matches in a year in 2018. In 2021, ICC Associate Country Uganda won 16 T20 Internationals. At number four on the list is Pakistan's traditional rival India, which won 15 T20 international matches in 2016, while South Africa has also won 15 games in 2021.
Previously, according to the Pakistan Cricket Board, Pakistan has played 26 T20 International matches this year. Which includes winning 18, losing six, and drawing three. Second on the list is South Africa, which has played 23 T20 internationals during this period, winning 15 and losing eight.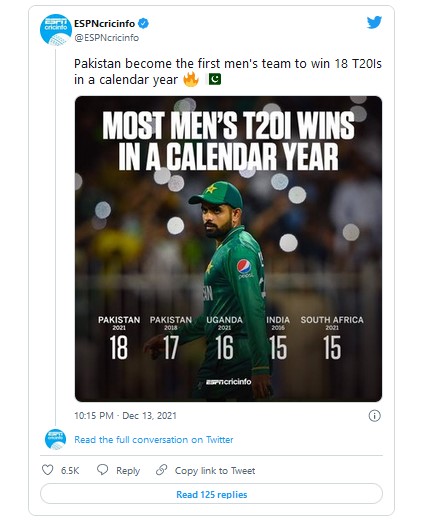 Third place is New Zealand in the World Cup final, playing 23 T20 internationals, winning 13, and losing 10. Australia, the T20 World Cup winners, played 22 matches, winning ten and losing 12. India's traditional rival India played 16 T20 international matches in 2021, in which they won 10 and lost 6.