The T20WC 2022 tournament will run between Sunday 18 October and Sunday 13 November, with 16 teams set to compete and seven cities to host matches across Australia. Twelve of those 16 nations are already confirmed, with the final four to be determined by Global Qualifying.
T20WC 2022 Fixtures | Super 12 groups
The fixture list for the 2022 T20 World Cup in Australia has been released, with the draw for the First Round and Super 12 groups also confirmed.
International Cricket Council CEO Geoff Allardice said:
"T20 is the global growth format for cricket and the ICC T20 World Cup 2022 will play a huge role in inspiring our next generation of players and fans as the world's best players descend on Australia and showcase the very best of our sport. The release of fixtures is always a great moment in the delivery of a World Cup as fans start to get excited about opening games, head heads, and knock-out stages.
"This schedule offers so much, from the 2014 Champions Sri Lanka opening the event to our defending champions Australia starting with a rematch of the 2021 Men's T20 World Cup Final against New Zealand and of course India taking on Pakistan at the MCG. We know that hundreds of thousands of passionate cricket fans will turn out to support every single one of the 16 teams across all seven of our host cities which is what makes it so special for the players. You only need to cast your mind back to the brilliant ICC Women's T20 World Cup 2020 in Australia to know that this is going to be a wonderful event for players and fans alike."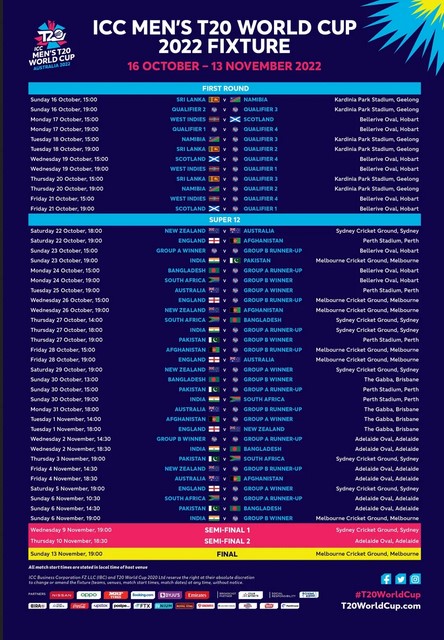 ICC T20 World Cup Local Organising Committee CEO, Michelle Enright said;
"The release of the fixtures gives fans the opportunity to start planning their T20 World Cup experience, which is now just 268 days away."
"By having matches spread across the nation in seven host cities and making tickets accessibly priced, we are hoping as many people as possible will be able to experience the incredible atmosphere that international fans bring to global sporting events, as well as the unique, fast-paced and unpredictable nature of T20 cricket."
"World Cups are about bringing people from all backgrounds and cultures together and we hope to safely host over 800,000 fans at Australia's iconic cricket venues later this year."